LangTec's custom-tailored AI solution for converting unstructured text in e-mails and documents into structured information ready for processing in your down-stream applications
Many enterprises today still rely heavily on the exchange of time-critical information via e-mail. More often than not agents need to filter relevant information from hundreds or thousands of e-mails per day.
Being able to identify and process the most lucrative, relevant or important messages first provides a clear competitive advantage, especially in industries where response times are critical to secure requested business.
How It Works
LangTec's E-MailParser is an AI service that can be seamlessly integrated into any existing process via API. E-MailParser is customised to the specific needs of your business and extracts all business critical information with an accuracy of over 95 % – no annotated training data needed. The service can run in the cloud or on-premise. Full protection of confidential information is ensured in all processing steps.

E-MailParser converts unstructured text into structured data in json or XML format such that your business applications can process it. No need for error-prone and time-consuming manual data entry anymore. With LangTec's E-MailParser, you don't need to spend hours searching for the inbox nuggets anymore.
Contact us now for a free live-demo today.
TextWriter is LangTec's fully scalable framework for
generating SEO-optimised texts from structured input data
Automatically generated texts allow you to textualise essential information instantly – at any scale and across multiple channels and languages. Automatic text generation is especially suitable for the creation of data-driven content. If you need to produce a large number of texts, analyse large amounts of data or use data that is updated frequently or contains a high degree of personalisation, TextWriter is the right solution for you.
The ability to generate any number of texts from different data sources is the central feature of TextWriter. Content production scales across multiple languages, geographical regions, target groups, and output channels and formats. TextWriter can also be used to increase user coverage by offering text-to-speech optimised content.
TextWriter permits you to highlight and contextualise key data points with dynamic text modules. TextWriter is the perfect tool for automatic report generation as well as large-scale content creation and content personalisation.
Typical application domains of TextWriter are: automated product descriptions in e-commerce, real-time stock exchange reports, highly regionalised property market reports, localised real-time weather forecasts, on-demand election forecasts, regulatory reports, summary reports of statistics, and many more.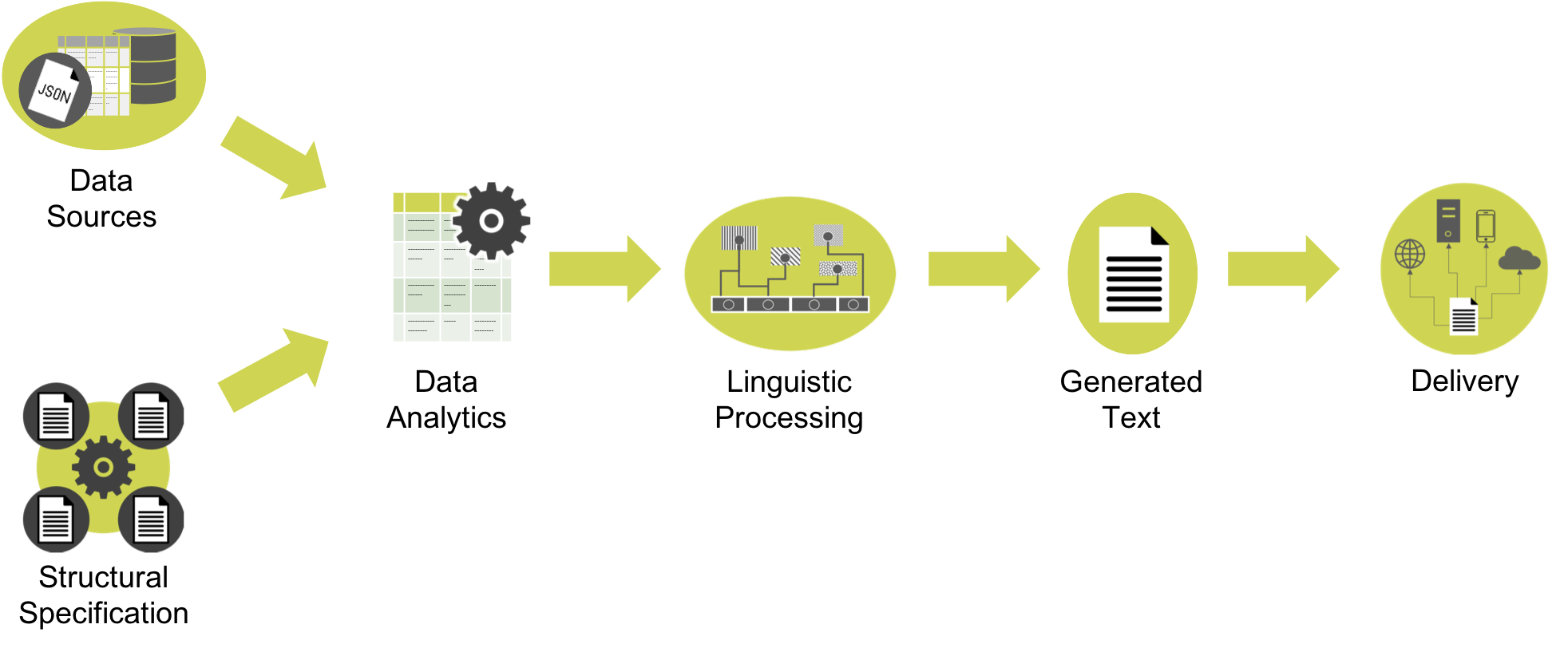 Flexible Data Import
Excel, SQL, XML, JSON, CSV or any proprietary format: TextWriter connects to all your existing data sources.
Boundless Scalability
Generate any number of texts within the blink of an eye, in regular intervals, event-based or on demand.
Flexible Deployment
Use TextWriter on premise or as software as a service (SaaS), in the cloud or via a web-based REST interface.
Data-Driven Contextualisation
TextWriter's analytics engine analyses new data points, contextualises them against historical data and identifies relations between them.
Content Accessibility
Generate texts optimised for text-to-speech output (TTS) to make information accessible to target groups with special needs or in special usage contexts.
Multilingual Content
With TextWriter you publish and update your content effortlessly in multiple languages at the press of a button. No need for continual translation or localisation anymore.
How It Works
Our team of computational linguists create dynamic text modules and analytical functions based on your requirements regarding content and structure. TextWriter's analytical engine analyses incoming data, textualises gained insights and embeds them into an appropriate analytical context. The resulting texts will be generated in multiple languages and customised for different target groups. The output texts are then ready for use, made available in different output formats and across various interfaces according to your specific needs.
This workflow is independent of the number of texts required and remains the same regardless of whether one or millions of texts are to be generated.
DocumentReader is LangTec's machine learning solution
for deep information extraction (IE) from digitised documents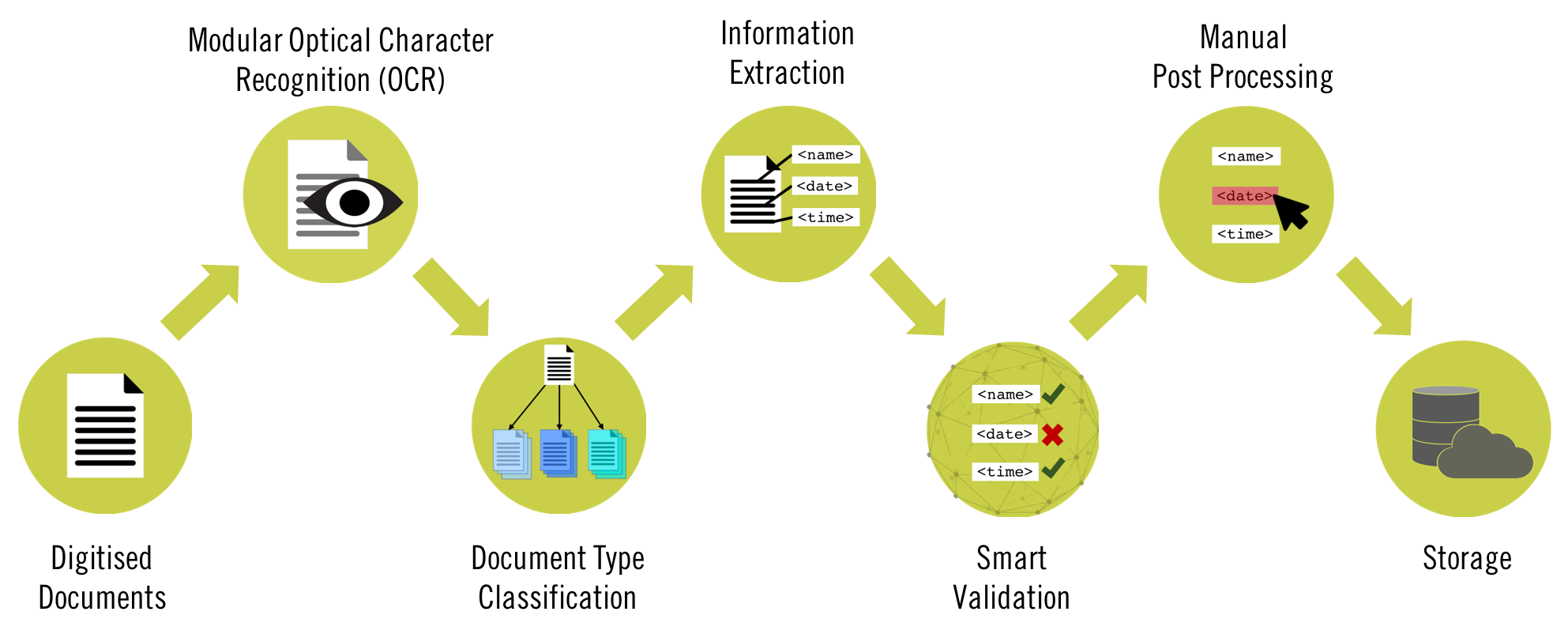 DocumentReader is highly flexible and can be used with a range of different OCR engines, such as ABBYY FineReader®, Tesseract or Google Vision API. DocumentReader achieves outstanding extraction accuracies due to its unique machine learning approach specifically developed by LangTec. DocumentReader also offers effective workflow management and seamlessly integrates into a wide range of existing application and infrastructure contexts.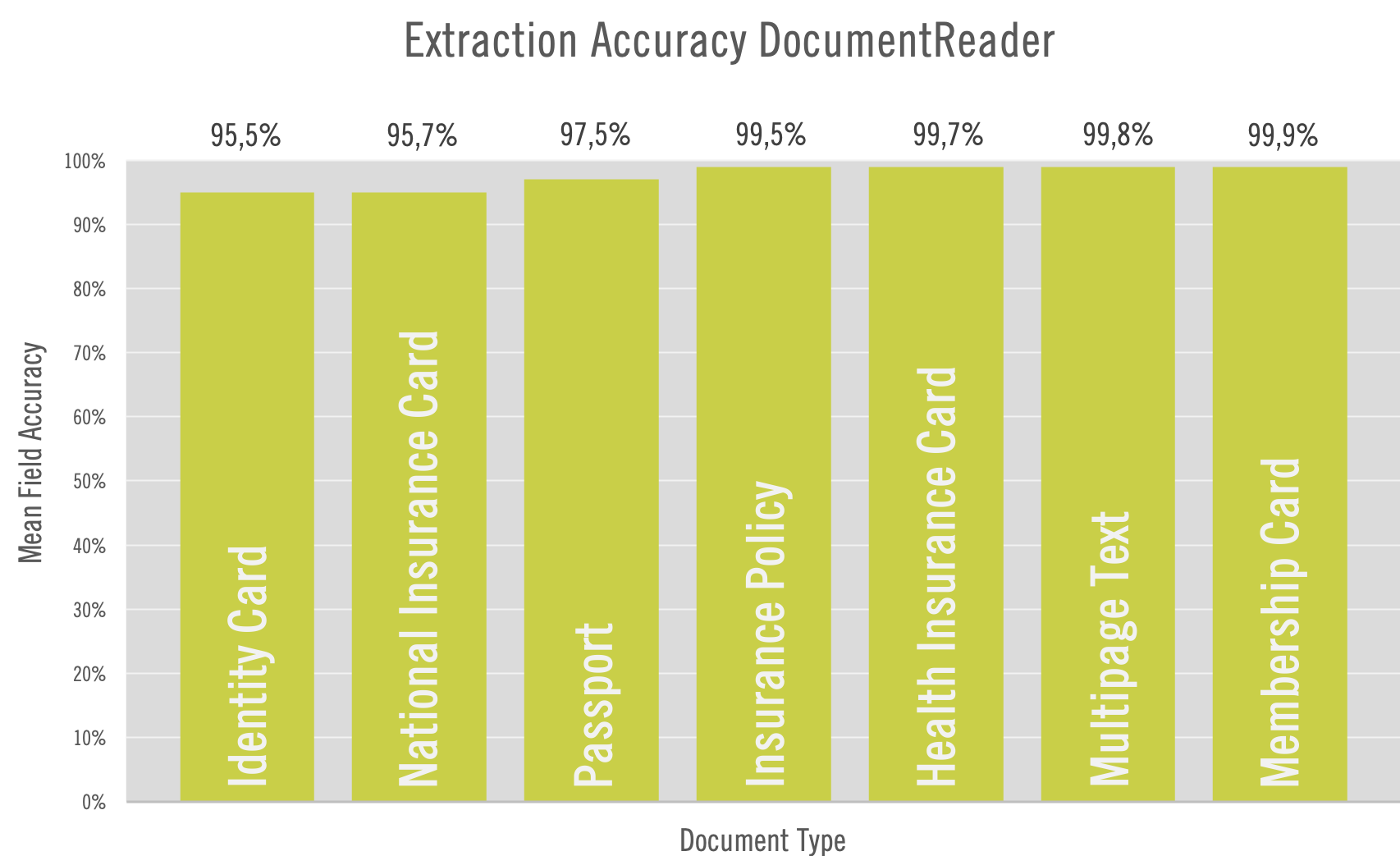 MT Quality Estimator – QUEST
QUEST IS LANGTEC'S DEEP-LEARNING-SOLUTION for
MACHINE-TRANSLATION QUALITY ESTIMATION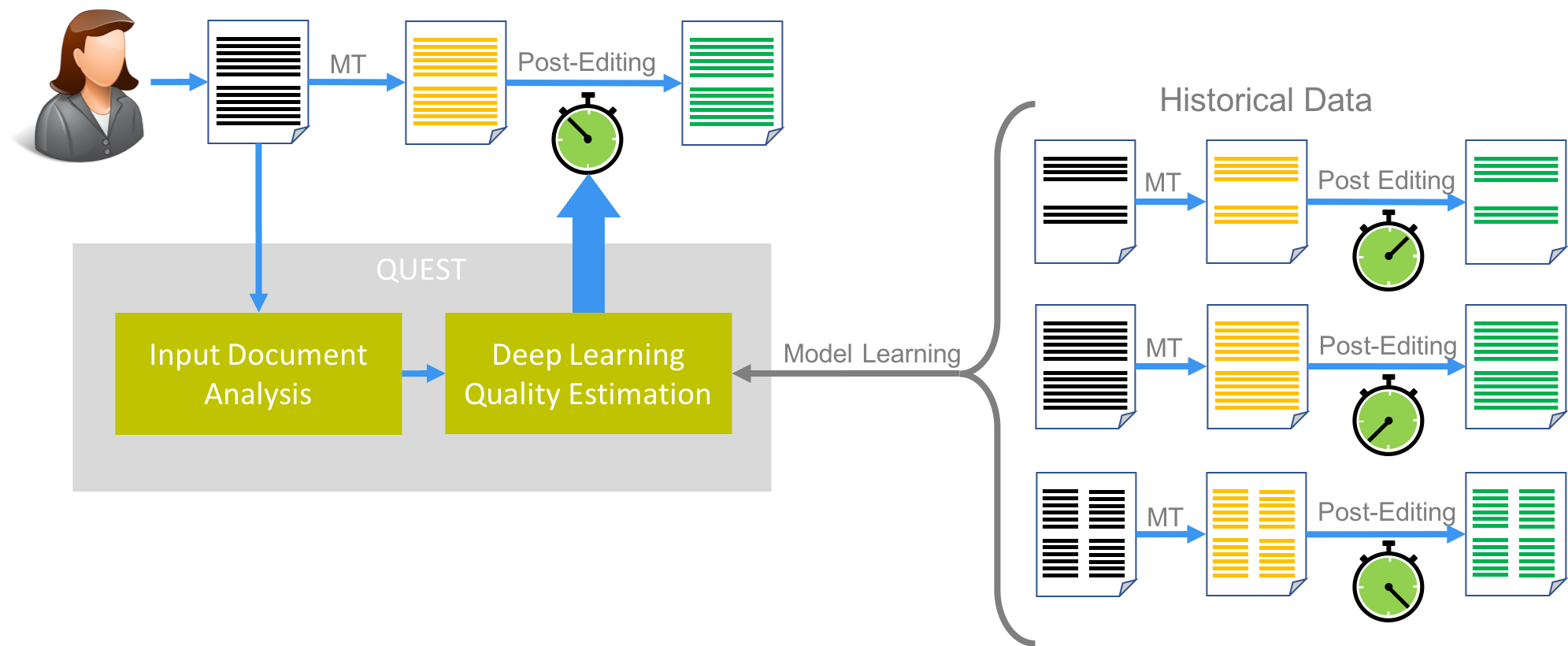 Reliable Post-Editing Predictions
Having learnt from vast amounts of past translation data, QUEST makes extremely accurate predictions of the post-editing workload for new, previously unseen input texts. Predictions of post-editing effort can be reported in hours and minutes or as the number of post-editing operations needed.
Optimised Translation Pricing
Knowing how much manual post-editing will be required for a given text permits you to optimise your pricing for a given translation job, striking the perfect balance between competitive market price and margin requirements.
Streamlined Workflows and Resource Allocation
QUEST tells you in advance how much work needs to go into post-editing to achieve the desired translation quality. This knowledge permits you to set competitive deadlines and enables informed resource allocation decisions.
Finding the Best Machine Translation Engine
From historical data, QUEST acquires an understanding of which translation engine produces better translations for which kind and genre of text. So, for your next translation job, simply select the engine for which QUEST predicts the highest machine translation output quality.
Tuning Your In-house Machine Translation Engine
By performing systematic quality predictions across a carefully balanced reference corpus from multiple domains, QUEST can help you identify improvement potentials in your in-house MT engine's output profile.
Better Planning for Lesser-Resourced Languages
There is substantial uncertainty when using MT for lesser-resourced languages. With its highly accurate quality predictions, QUEST helps you to understand the effectiveness of MT for your language pair and domain, irrespective of whether you work with a public or an in-house MT engine.
Take control of your MT translation processes!
Reach out to us for free access to a customised model on your historical translation data. Within hours, you will obtain individual access to your model so you can test it extensively.
Don't have any historical data? No problem. You can also use one of our existing models, either tailored to a specific domain or cross-industry.
You can view our product brochure here.
DocumentCreator is LangTec's solution for the scalable generation
of synthetic test and training data in machine learning processes
Gone are the days when the quality of machine learning models was limited by insufficient test and training data. DocumentCreator permits to generate unlimited amounts of semantically fully annotated document variations based on just a few original input specimens. DocumentCreator is particularly helpful in cases where documents for test or training data are few in number or cannot be used to train machine learning models because of data confidentiality, copyright issues or insufficient or inaccurate target value annotations. DocumentCreator is available as on-premise solution or as a software as a service (SaaS).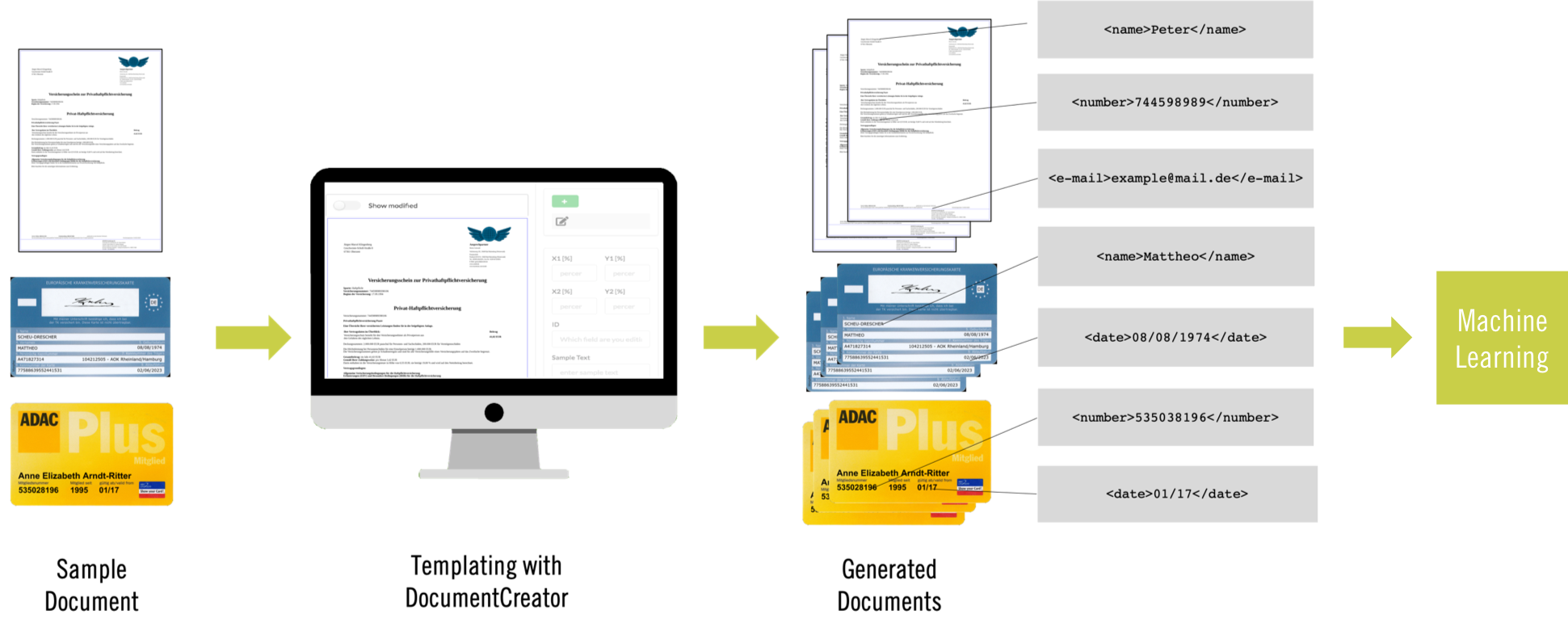 TeamTracker is LangTec's analytics solution to support and manage
all core administrative processes in small and medium-sized businesses
TeamTracker covers the core administrative processes of small and medium-sized businesses in an integrated, role-based solution: time tracking, holiday approval, team calendar, asset management, invoice issuing, and invoice tracking. Additional custom modules are available upon request. In addition, there are numerous analytical features and reporting options available for management. TeamTracker runs on all platforms and is accessible from browsers or mobile devices. Encryption of all personal data ensures compliance with the General Data Protection Regulation. TeamTracker can be operated on-premise or as software as a service (SaaS). With TeamTracker, paper-based team administration is a thing of the past.